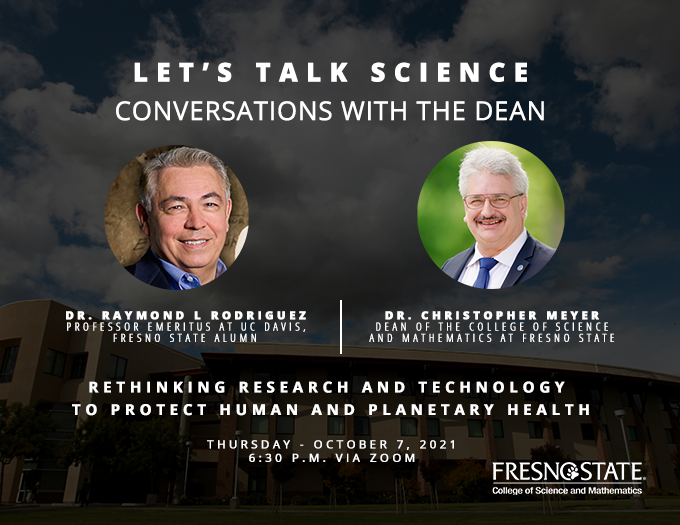 "Rethinking Research and Technology to Protect Human and Planetary Health"
Dr. Raymond L Rodriguez, Professor Emeritus at UC Davis, Fresno State Alumni
Thursday, October 7th 6:30 PM Zoom https://fresnostate.zoom.us/j/89616940670?pwd=UlZUNDMrc2xYQmM3L1YySDV6ajVqUT09
About our Speaker. Fresno State outstanding alumni Ray Rodriguez is a scientist, inventor, entrepreneur, and Professor Emeritus at UC Davis, specializing in molecular biology and biotechnology https://en.wikipedia.org/wiki/Raymond_L._Rodriguez). His current research interests include diet-genome interactions, plant made pharmaceuticals, and the food/brain axis. His pioneering work in gene cloning was critical to the modern era of molecular biology and served as the foundation for today's biotech and biopharma industries. He is an inventor on 18 issued US patents and as an entrepreneur founded or helped start over 25 high tech startup companies. He has also made many contributions to our understanding of the physiological and molecular processes of rice. As executive director of the Center of Excellence for Nutritional Genomics, Rodriguez coordinated the research activities of over 50 research faculty, physicians, postdoctoral fellows and graduate students to investigate diet-gene interactions. Center researchers published over 200 research publications and two volumes on diet-gene interactions and their relationship to human health and disease. In 2019, he served as the Lead Mentor of an NSF funded Ideas Lab at Fresno State focused on the "Food – Health – Ecosystem Trilemma" that included faculty from 14 CSU campuses as well as 3 UC campuses, Washington State, and leadership from NSF and the USDA. He has served as an invited presenter to the President's Council of Advisors on Science and Technology (PCAST) and was elected as Fellow of the American Association for the Advancement of Science (AAAS) in 2016. He is also actively involved in programs that promote diversity, equity, and inclusion in STEM disciplines. In 2013, Dr. Rodriguez received funding from Intel Corporation to organize the first Girls Who Code summer immersion course on a university campus. The Girls Who Code program is designed to close the gender gap in the computer sciences.
Thursday, October 07, 2021
---
Contact:
Eric Maul


Categories: